Steve Barcak's Nostalgia Top Fuel


From ARHRA-Winternationals



Home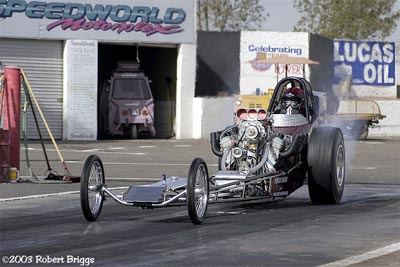 The ARHRA Winternationals also featured the long awaited debut of Steve Barcak's Nostalgia Top Fuel dragster. Going where everyone else fears to go, Steve's slick Sterling car has a Pontiac between the frame rails. That's right, an iron block/heads Pontiac! Logic would dictate that modern fuel parts for a 1959 Pontiac aren't exactly shelf items so Barcak made his own. Nearly every part from pan to blower manifold was either fabricated or modified at Pontiac Heaven (Steve's business) in order for him to meet his long term goal which is to have the worlds quickest and fastest -- you guessed it, Pontiac.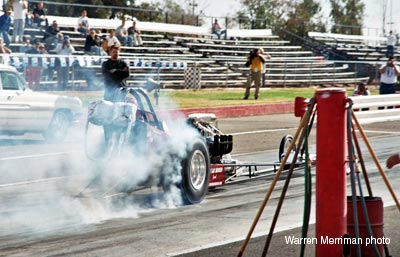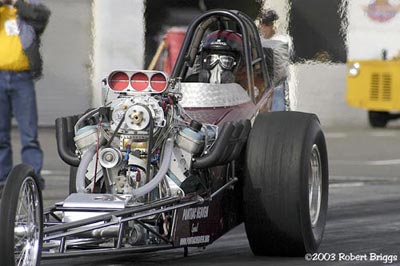 After several fire ups in the pits, Barcak finally got to suit up and take his maiden voyage (well, not a voyage exactly). Although the Poncho sounded plenty stout on the idle circuit, it was not even close to being ready for some throttle. After a mild burnout and an exercise in staging, when the fuel system went to the "high side" it leaned out and blew out the burst panel - twice.
Nonetheless, considering this is a new driver and crew with a way new combination they finally got their feet wet and made steps in the right direction. An uphill battle indeed, there are more than a few of us who would like to see Steve's enthusiasm and hard work pay some dividends down the road.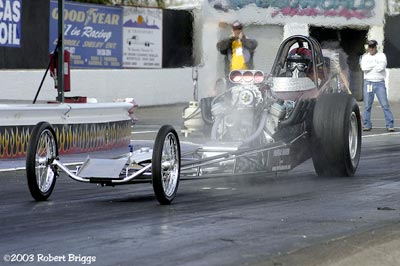 Pop goes the burst panel.
For more info on this courageous effort check out: Pontiac Heaven
---