Gold 1970 Formula Race Car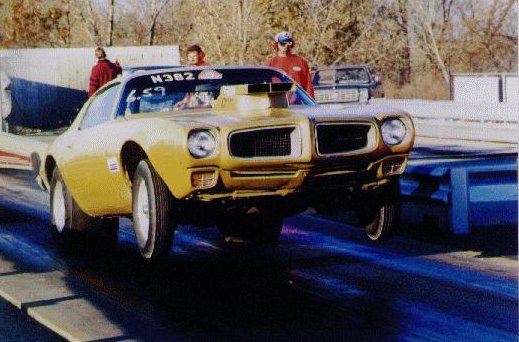 Pontiac POWER Rules!




My 1970 Gold Formula has a Jim Butler prepared short-block.It has an Ultradyne roller cam,Eagle long rods,Ross pistons.The cam is installed straight up It has a Canton oil pan with a 455 SD oil pump.


The heads are stock RAM AIR IV with Comp. Cams 999 roller springs.
I use JR 2" headers with 10" long extensions on collectors.
I use a Wentzler intake with a 800 Holley carb,and a Mallory 250 electric pump out back.


The Turbo 400 tranny is a reverse valve body with tranny brake.The converter is a TCI 8" 4000 stall converter.


The rear end is a narrowed 12 bolt with a spool and 4.88 gears.I usually run Firestone 14x32 F30 slicks.
I narrowed the rear frame rails and put a ladder bar setup under it.I Use Art Morrison coil setup.The front end is stock.
I had a cage installed and it is certified for when I get my new engine done and can run faster.
Pics of my cage.
Cage 1
Cage 2
Cage 3
The car weighs 3380 lbs. without me.


I usually race 1/8th mile. The best time so far is 6.49 @ 102 mph,on gas.