Search for Pontiac Engine Codes


Do you like this site?
A small donation would be appreciated.












Home







Input your query into the appropriate box. (year in the year box, etc)
Or for a list of all the codes just hit the Submit button.





---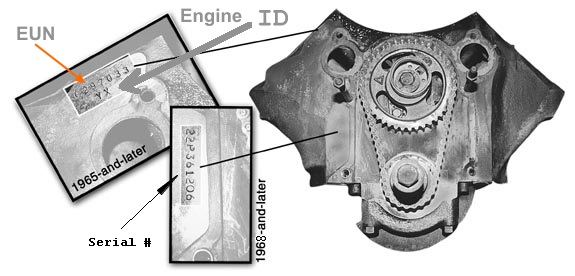 To find where the Engine code/id can be found.

---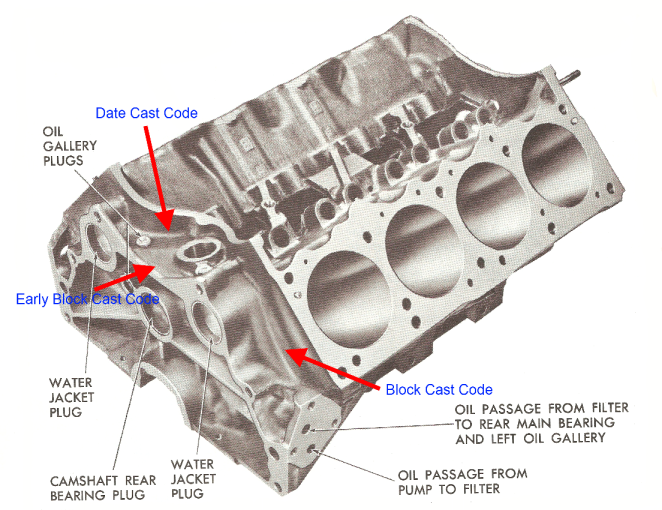 To see where the block code and date code are



Pontiac used the same codes on different year blocks.To differentiate them it will have to be determined what year the block is.Next to the distributor hole there is a casting number that has a letter with 2 or 3 numbers. The letter is the month of manufacture- A=Jan. B=Feb,etc.

The next number or two is the day, but sometimes the factory left the first part off, i.e. 5 could mean 5,15,25.The most important is the last number,it is the year of Manufacture it is not always the model year,as most blocks are cast a few months before the car is made. In addition 1966 and earlier blocks had 2 freeze plugs on each side of the block.
1967 and newer had 3 freeze plugs per side.
1969 and older blocks had 2 motor mount holes per side.


Starting in 1970, most blocks were cast with 5 motor mount holes with the mounts using 2 bolts in line with 1 higher up in the middle.Some 1977 and later blocks only had 3 holes that used the newer mounts. This means you can put a 455 in about any Pontiac car with that car's motor mounts, but if you want to use a 428 block in your 1970- Firebird you'll have to modify the frame mounts or make an adapter.

Starting around 1969 Pontiac cast a 2 digit year number next to the distributor also. They also cast the engine size on the sides of the block,usually in front of the motor mounts or between the freeze plugs.

Full VIN's were stamped on the block on '63 and EARLIER engines. From '64 thru '67 no VIN, full or partial, was stamped on the block. Fed law mandated the partial VIN stamp from '68 up.
Pontiac stamped the VIN numbers (see pic above) next to the timing cover about even with the timing marks on cover.This will start with a 2 (for Pontiac) then the last digit of the year then the car serial number starting with the plant letter.These are usually covered with oil and crud, and probably hard to see.This will tell you if this is an original motor.





Pontiac Intake Manifold Years Interchange




1957-1958
1959-1960
1961-1964
1965-1979

Does not apply to 301 or the RA V





| | | |
| --- | --- | --- |
| With Head | And Manifold | Use Gasket |
| 1965-71 | 1965-71 | 1965-71 |
| 1965-71 | 1972-79 | 1972-79 |
| 1972-79 | 1972-79 | 1972-79 |
| 1972-79 | 1965-71 | 1965-71** |

** Use sheet stainless steel block off plate.

---
Shop Amazon - Contract Cell Phones & Service Plans